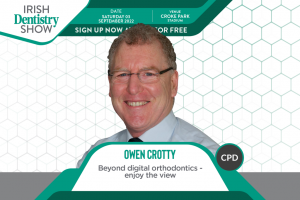 Owen Crotty will be attending this year's Irish Dentistry Show on 3 September to discuss digital orthodontics – sign up now!
Back by popular demand, the Irish Dentistry Show is returning to Dublin on 3 September 2022.
With more speakers and exhibitors than before, it will take place at Croke Park.
In addition, the day promises to bring key brands, leading speakers and the latest topics in dentistry for every member of the practice team.
Leanna Ellis, events director at FMC, said: 'We are really excited to get back to Dublin this year.
'We have a fantastic line-up of expert speakers to deliver top-class lectures. And, as always, there will be an array of stands at our exhibition so you can stay abreast of the latest technologies in dentistry.
'But that's not all – that weekend we are also hosting the Irish Dentistry Awards.
'If you've been shortlisted, don't forget to buy your tickets by visiting www.dentistry.co.uk/awards.'
Owen Crotty – Beyond digital orthodontics: enjoy the view
Owen Crotty has been a principal at Crotty Orthodontics in Cork since 1992.
With over 30 years as a specialist, Owen has seen orthodontics evolve from analogue to digital systems.
As well as this, he is a faculty member and KOL for Invisalign and Dental Monitoring, and has beta tested products for both Invisalign and for Suresmile.
Owen's lecture will discuss how the tools available to treat orthodontic patients have evolved during the digital era.
On his lecture topic, Owen commented: 'It is important to understand how they complement traditional orthodontic principles and the value of treating with a hybrid approach.
'As the rate of development accelerates, we must remember that what is now "innovative" is likely to become "best practice" at some stage.'
In addition, he hopes delegates take away from his lecture:
An understanding of the meaning of 'digital orthodontics'
A visualisation of some of the possibilities opened up by the digital tools now available to us
An understanding of the similarities between traditional and more modern orthodontics.
What's on at the Irish Dentistry Show?
We have a whole host of speakers lined up for the show, including:
Avijit Banerjee – Advanced minimum intervention restorative dentistry: it's time to build back together!
Bronagh Keane – Smile design
Grant McAree – The secret of success: the formula for building a multimillion pound dental business
Claire Berry – Introduction to guided biofilm therapy
Stuart Aherne – A guide to digitally guided implant surgery
Abigail Leonard – Paedriatric extractions and the role of a dental nurse.
We'll bring you more information and more speakers over the coming weeks – stay tuned.
Follow Dentistry.co.uk on Instagram to keep up with all the latest dental news and trends.