Gary O'Neill explains how to win at the Dentistry Awards and the Private Dentistry Awards
How does it feel to have won a Private Dentistry award?
After joining the Cosmetic Dental Clinic team last year as an associate dentist, being acknowledged as 'Best Young Dentist' at both the Dentistry and Private Dentistry awards has no doubt been the highlight of my career to date.
As a finalist and attending the ceremony amongst a room full of talented colleagues in the profession, and being recognised by them, has been a great achievement and means a lot to me.
I have this recognition that many great dentists have received before me, and who serve to be my inspiration on a daily basis.
I hope I can one day inspire other young dentists to achieve their goals and be the best dentists they can be.
How did it feel when your name was announced?
It was an amazing feeling… one which I could not have felt if it wasn't for all those who have help so early on in my career.
Although it was an individual award, the many 'mini successes' I have had, which led up to this moment in my career would not be possible without my amazing colleges. 
For example, Sarah Turnbull my first nurse, who give me the confidence from day one of Foundation Training to be the dentist that I wanted to be, and who provides continued support.
Thank you to the many colleagues that have helped and directed me and of course the University of Instagram.
And finally, thank you to the legends that are Darren Cannell and Andy Stafford who give me the opportunity to transition from NHS to private dentistry, who welcomed me to join the Cosmetic Dental Clinic team, who have been amazing in every way and allowed me to learn and progress more than ever.
What do you think have been the main benefits of entering the awards?
Entering the awards has allowed me to make connections with colleagues across the country making new friends inside and outside the world of teeth and dentistry.
In addition to the lovely trophies, this has truly been the real rewards from the experience and attending the awards ceremonies was a real highlight.
It was a good opportunity to socialise in smart clothing rather than clinical scrubs and the venues, food and drink were as prestigious as the awards ceremony. 
What do you think the Private Dentistry Awards are doing to standards within the profession?
I believe the awards are no doubt improving standards year on year.
The quality of my fellow finalists was unbelievable and being among everyone at the awards ceremony, the passion and love for the job by all certainly fills the room.
For me the awards served as a motivation to step up and be the best dentist I can be.
Providing motivation, the process will test you against your friends and colleagues and make you realise that there is a big wide world of dentists outside your four surgery walls – and ensure you don't start to fall behind.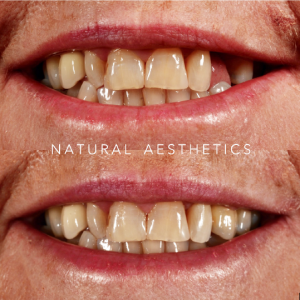 What's changed in your life since COVID-19?
A lot has changed for everyone over the past two years.
Appreciation for family and friends and the time that was lost with them, was certainly something that many of us have reflected upon.
I have realised, that as much as I love teeth and dentistry, that there was more to life than working.
In combination with wanting to pursue further education with a master's degree at Kings College London, I have reduced my clinical hours not to only focus on family and my home life, but to allow some extra time to advance my clinical skills, academic dentistry, improve communication, shadowing and teamwork with my lab technician.
All so that when I am in clinic, I am performing dentistry to the highest standard with an improved workflow. 
What advice with you give people who are thinking of entering the awards?
Just enter. Regardless of winning, it is such a good opportunity to come together as a profession and celebrate the year with your friends and colleagues.
With social media, the world of dentistry on Instagram can be difficult and it can be too easy to compare yourself to others and feel like your falling behind.
Everyone has to start somewhere and of course outstanding clinical work is a key part of the entry, but it's also important to remember that there is much more to a dentist that some pictures on the "gram". 
Demonstrating passion and commitment to your career and patients is important.
I believe that I have given so much of myself into my career, surrounding team and practice, since graduating.
Investing heavily into further education and courses to improve both my clinical and non-clinical skills have also helped alongside engaging actively in the profession, local community as well as carrying out region wide research project.
Will you be entering the awards again this year?
I don't intend on entering again, but instead to help and advise younger friends and colleagues of my experiences.
I do hope to attend the awards ceremony which will act as an annual gathering for friends and colleagues to socialise and have a great time, celebrating our successes as well as reflecting on the year.