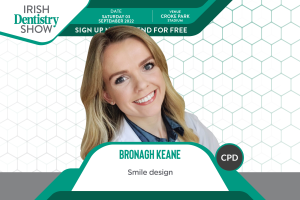 Bronagh Keane is making her way to the Irish Dentistry Show! Catch her lecture on smile design on 3 September – sign up now!
Back by popular demand, the Irish Dentistry Show 2022 is coming back to Dublin.
Taking place on 3 September at Croke Park, it promises to be a day to learn, engage and experience the very latest in dentistry.
We can't wait to bring together Ireland's dental professionals with key brands and leading speakers for a full-scale exhibition.
There will also be a concurrent lecture series featuring the hottest topics in dentistry for every member of the practice team.
To sign up visit www.dentistry.co.uk/shows/irish-dentistry-show/.
'We are really excited to get back to Dublin this year,' says Leanna Ellis, events director at FMC.
'We have a fantastic line-up of expert speakers to deliver top-class lectures. And, as always, there will be an array of stands at our exhibition so you can stay abreast of the latest technologies in dentistry.
'But that's not all – that weekend we are also hosting the Irish Dentistry Awards. If you've been shortlisted, don't forget to buy your tickets by visiting www.dentistry.co.uk/awards.'
Tickets are selling quickly! If you appear on the shortlist and would like to attend the ceremony, make sure you call +44 01923 851732.
Bronagh Keane – Smile design
Bronagh is a cosmetic dentist based in Dublin.
Her passion is smile makeovers, and she enjoys providing patients with a new found confidence.
She completed her undergraduate degree in Trinity College Dublin. She followed this with smile makeover courses and postgraduate diplomas from RCSI.
Bronagh furthered her education in facial aesthetics and is now in a postgraduate program for facial aesthetics in the City of London Dental School.
On her lecture, Bronagh commented: 'The smile doesn't end at the teeth.
'It is a balancing act of managing ratios, proportions and recognising the relationship of the teeth with the soft tissues and bone remodelling.'
She hopes delegates take away from her lecture:
Dental smile makeovers
The role of facial aesthetics in dentistry
Achieving the happy patient.
What's on at the Irish Dentistry Show?
More speakers will be announced closer to the time so keep checking  to find out who's been added.
In the meantime, here's a glance at those already revealed:
Shazad Saleem – The stepwise approach to managing periodontitis: An overview of the S3 guidelines for managing stages 1-3 periodontitis
Rachel Derby – Enter the Multiverse: a journey from single tooth dentistry to multi tooth dentistry
Alessandro Cucchiaro – Engineering immediate prototypes
Stuart Aherne – A guide to digitally guided implant surgery
Abigail Leonard – Paedriatric extractions and the role of a dental nurse.
We'll bring you more information and more speakers over the coming weeks – stay tuned.