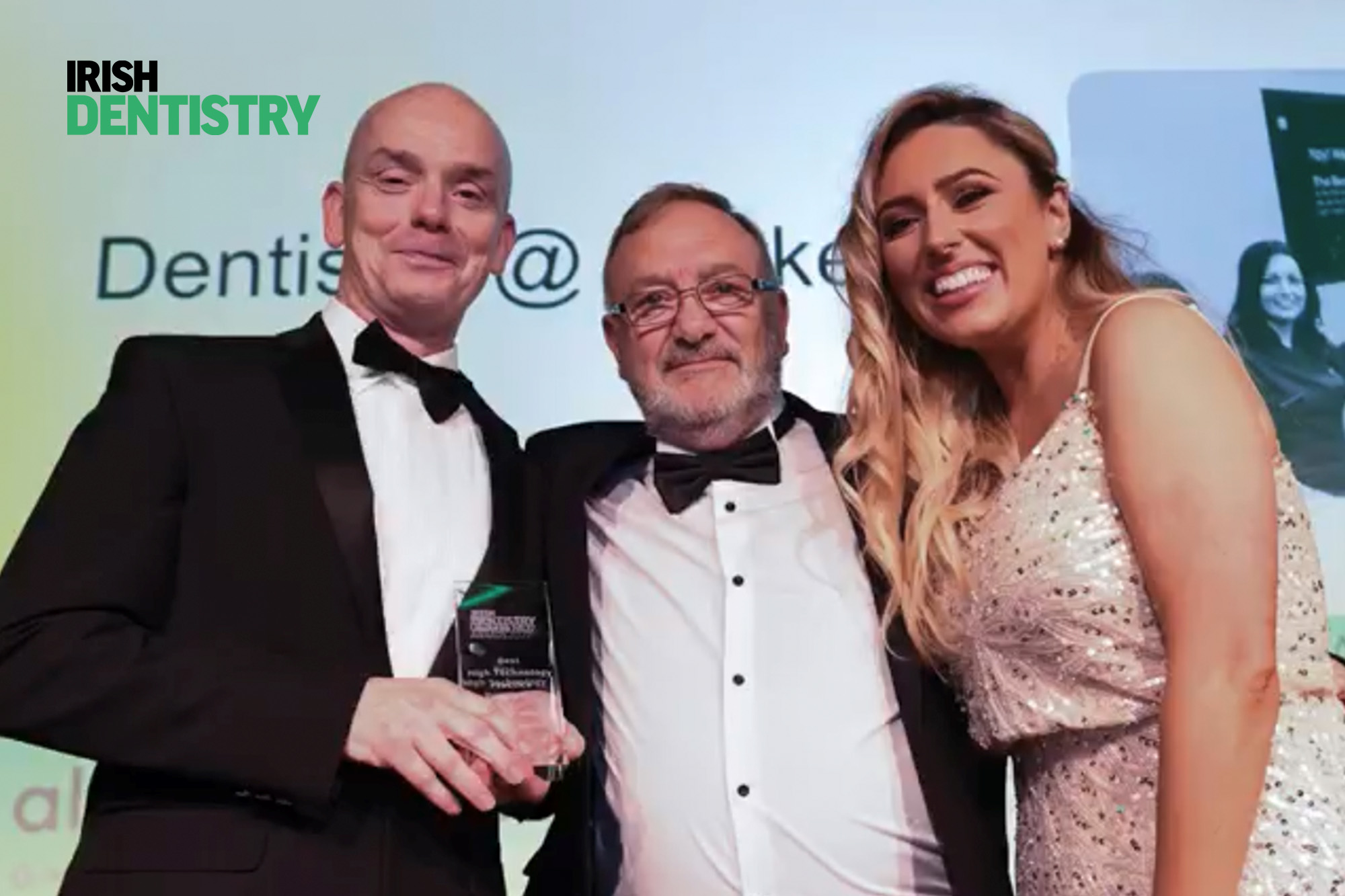 Julian English spoke to Paul Reaney about Dentistry @ Markethill's achievements at the Irish Dentistry Awards.
How does it feel to have won an Irish Dentistry Award?
I'm totally delighted for our whole team to be recognised for their dedication and professionalism. This sounds like a cliché, but none of us could provide the care that we do without the support of our clinical and administration team members.
How did it feel when your name was announced?
There is always a degree of suspense and excitement as winners are announced. From the start of any FMC award evening, it's like a mini Hollywood award ceremony, being surrounded by likeminded colleagues who you genuinely respect.
We all appreciate the difficult task judges have differentiating a winner. But it's always such a surprise and wonderful feeling when you hear your practice announced. 
What do you think have been the main benefits of entering the awards?
For me it's the opportunity to raise awareness of Dental Sleep Medicine, which was the theme of our submission. What could be more important than raising awareness of our airway and how we breathe as we move on from the lockdowns during Covid-19.
Sleep is literally at the centre of Dental Sleep Medicine (DSM) and in our clinic, our goal is to help patients achieve quality sleep for the benefit of their physical and mental wellbeing. It is essential that we recognise that we ourselves, our team members, families and patients all experience sleep deprivation and many of us are undiagnosed with sleep disordered breathing (snoring and obstructive sleep apnoea).
The recent NICE guidelines for management of these conditions now acknowledges the role trained dentists provide in the screening and management of our patients.
Have you entered before?
We have previously been winners at the Private Dentistry Awards and the Dentistry Awards. In preparing a submission, it's a great opportunity to review your workflow and focus on areas of patient care where you can improve.
What do you think the Irish Dentistry Awards are doing for standards within the profession?

 
The awards represent only a small aspect of what FMC provides to the dental profession. The Irish Dentistry Awards evening followed on from the FMC Irish Dentistry Show, which in my opinion, was the best ever attended by both dentists and their teams.
These face-to-face events are so valuable for us to meet the trade dealers and laboratories in an environment outside our practices when we aren't in a rush. The benefit to catch up over coffee and strengthen relationships can never be taken for granted.
Many thanks to the trade dealers and dental suppliers who attended the Irish Dentistry Show, many of whom also sponsored the award categories that evening.  The show also delivered an excellent educational programme with a wide variety of speakers to capture the interest of the entire dental team. Again, this reflects the dedication of FMC to provide CPD throughout the entire year through on-line and published formats.
Don't forget having fun…quite simply the awards are a brilliant night out.
What advice would you give people who are thinking of entering the awards?
As the Nike slogan states, 'just do it'! By entering you are a winner. It takes courage to be assessed by experienced and respected peers on the judging panel, many of whom have previously been hopeful entrants. 
What's your favourite product of the last 12 months and why?
That's a difficult, if not impossible, question. I appreciate that our award was for Best High Technology Practice, however, I believe the most important factor of any successful digital workflow is that of human relationship.
Just as success in DSM is only possible by respecting the relationship of the medical and dental professions, my workflow and successful patient outcomes are only possible with the relationship and support I value from the people behind the digital products. This gives me an opportunity to acknowledge Greg Vogel from Prosomnus and Iain Spray from Panthera Dental, both of whom are global experts in precision Mandibular Advancement Appliances.
The delivery of these appliances is successfully provided using the relationship with Paul Higginson from Dexis Imaging for his continuous support with our clinical intraoral scanning. Relationships with colleagues, team members, trade experts and patients are more important than any digital technology or workflow.
Will you be entering the awards again?
I hope so. There is always a doubt that you might not win. But winning is not as important as the journey of trying to improve what we do and to share in the daily success of all our colleagues as we all endeavour to provide the best care possible to those patients in our care. 
---
Visit www.dentistry.co.uk/awards for the latest information on when these awards will launch and put the ceremony date of 9 September (Dublin) in your diary.