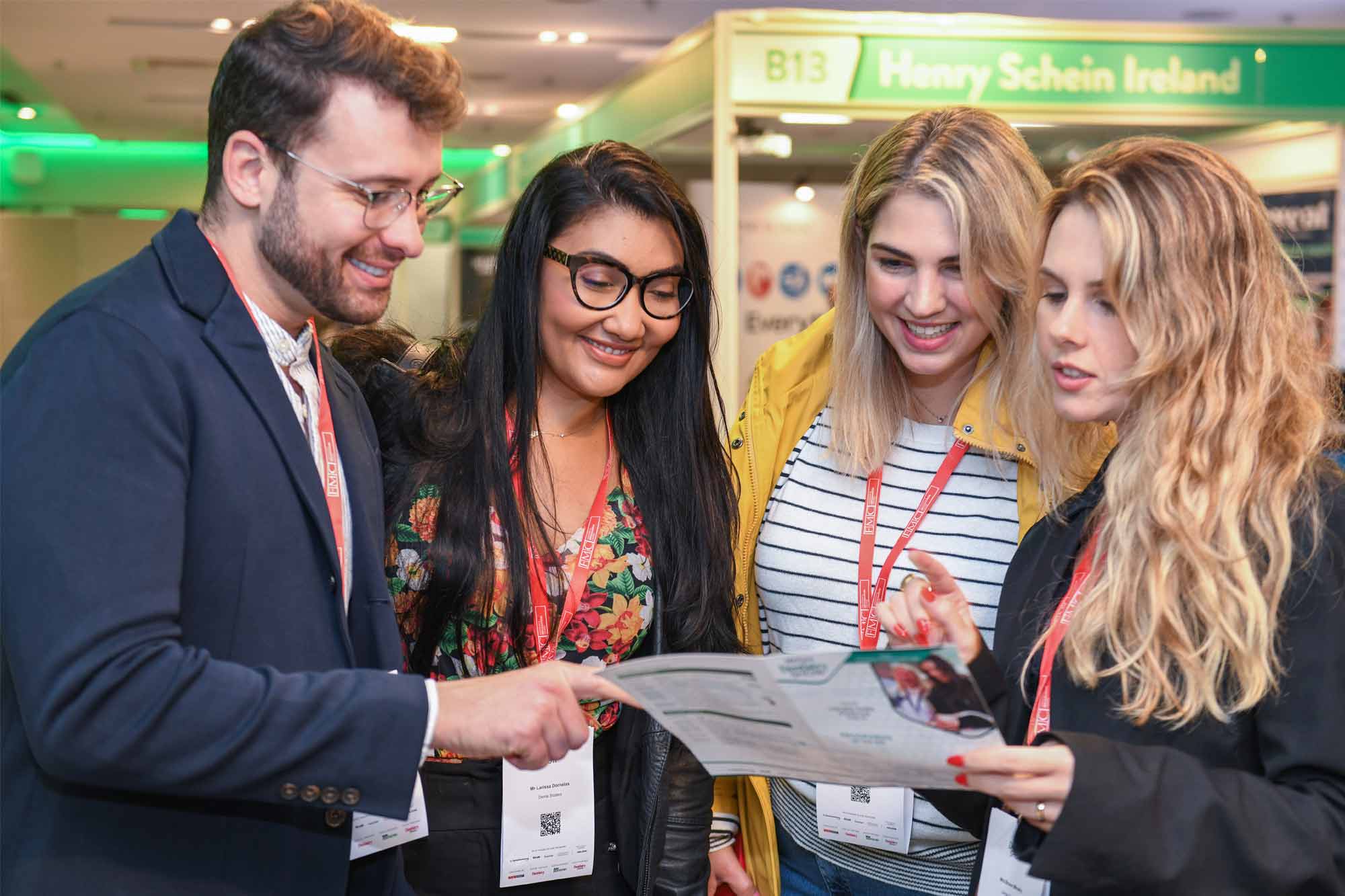 Find out more about the fantastic speakers who you can expect to see at the Irish Dentistry Show this year.
Morgan O'Gara – Maximising the Invisalign Portfolio
Join Morgan and learn from his brilliant knowledge about Invisalign Go. 
In this lecture, Morgan will share his experience on how to expand the use of Invisalign Go to a wide range of cases, utilising all the treatment options (Go Express, Go and Go Plus) as a standalone or combined ortho-restorative treatments to deliver brilliant patient outcomes. 
Joe McEnhill – Planning beyond the extraction: is there a bigger picture?
Atraumatic tooth extractions are an essential skill that all dentists should have if they are to reduce damage to surrounding hard and soft tissues. Extractions, however, are not the final act of the patient journey. 
Preserving the width and height of the jawbone prepares for easier placement of dental implants, either immediately or down the line, and is a fundamental skill every dentist could master.  
This lecture is designed to give a better understanding of atraumatic tooth extractions along with the short- and long-term factors to consider. 
Nishma Sharma – Finding the elusive ICP (inner, calm and peace)
Much like a stale one-way relationship, you work your ball-burnishers off, feel isolated, undervalued and threaten to leave after every broken core. Yes, dentistry is hard work and has never tested our resilience as much as it currently does. So, what happens when you fall out of love with dentistry? What happened to that dental dream we all chased at uni? Why is happiness harder to find than a sclerosed MB2? 
Nishma reflects on her personal ups and downs with portfolio dentistry, life after burnout, our toxic obsession with tooth porn and the secret to us all smiling more including how to find more joy and humour in what we do. 
In this lecture, Nishma will look to dissect not only where we may be going wrong, but more importantly where we are going right, and why sometimes it isn't the world around us covered in spittle, but maybe just our loupes that need cleaning. 
Dominic Castro – Revolutionising oral care: exploring the benefits of Burst products
In this engaging presentation, Dominic will bring his experience as a dental hygienist based in San Diego, California to guide you through the benefits and features of Burst Oral Care products. 
With a focus on the Burst products available in Ireland, Dominic will provide valuable insights into how these products contribute to improved oral health for your patients. Through informative discussions and practical recommendations, participants will gain a deep understanding of the features and advantages of each product, as well as their specific oral health benefits. Dominic will share valuable tips on how to integrate these products effectively into daily oral care routines, empowering attendees to achieve optimal oral hygiene outcomes for their patients. 
With a commitment to continuing professional development, this presentation aims to enhance participants' product knowledge, improve patient care skills, promote professional competence, and ensure they stay up-to-date with the latest advancements in oral care. 
Join Dominic for an engaging session that will equip you with the knowledge and skills to provide exceptional oral care recommendations to your patients.
Michael Crilly – Anterior composites tips and tricks: simple skills for success
In this engaging presentation on aesthetic anterior composite bonding, dentists will be provided with invaluable tips and tricks to enhance their skills in this field. 
With a focus on effective patient communication, the talk will explore the utilisation of both digital and analogue tools to facilitate clear and concise discussions with patients. Additionally, the importance of comprehensive patient assessment before offering composite bonding will be emphasised, ensuring optimal treatment outcomes. 
The presentation will guide attendees through a step-by-step process for successfully delivering layered composite bonding in general practice. By the end of the session, dentists will have gained an insight into how they can elevate their skills in aesthetic anterior composite bonding, hopefully inspiring them to want to deliver exceptional results to their patients. 
Manrina Rhode – Facial and personality-driven smile design
Join Manrina and learn the fundamentals of 'smile design' concepts. In this lecture, delegates will learn how this can be modified according to the facial proportions of the patient and come away with an understand of how this changes due to the patient's personality.
Naveed Maan – How to start the implant journey
In this lecture, Naveed will explore what requirements are sensible to go into providing implant treatments.
He will discuss the skills that are necessary and those that are desirable; patient selection; whom to contact and which companies to get help from, the information required before you can place an implant and the first patient.  
Lorenzo Pelizzari – Ultimate aesthetics: connected solutions from prepping to rechecking
Lorenzo will show work solutions and connected workflows that will greatly simplify daily work processes to meet customers' expectations. 
Lorenzo will focus on real patient cases treated with the innovative Prettau Skin veneers and will explain innovative working methods and technologies for achieving a high degree of customisation and aesthetics based on the 3D virtual reproduction of the patient's physiognomy and oral situation. 
Susan Fox – Beyond Botox and fillers: the new facial aesthetics revolution you can't afford to ignore!
Join Susan for an exciting journey beyond Botox and fillers, revealing a revolution that you simply cannot afford to ignore.  
For those who have not yet incorporated facial aesthetics into their practice, Susan will demonstrate the immense untapped potential and countless opportunities ahead. By offering these treatments, you can elevate your dental practice to new heights, expanding your patient base.  
Even if you're already offering injectable treatments, Susan will explain how Rejuv Aesthetics' cutting-edge products help bring out the natural beauty of your clients. Designed to reawaken natural collagen and elastin, the devices transform the texture and tonality of your clients' skin, providing truly remarkable results. 
Join Susan on this journey of discovery, as she explores the possibilities of facial aesthetics and the significant impact it can have on your patients' lives and your practice's success. 
Don't miss out on this extraordinary opportunity to be part of the facial aesthetics revolution. 
Stuart Aherne – Digital dentistry approach for implant therapy
From the first consultation appointment to the final fit of an implant crown, digital dentistry has improved patient communication, safer outcomes for the implant surgery as well consistent accurately fitting implant crowns. 
This presentation will show how digital tools improve implant therapy options and how to go about using them. Digital dentistry is going to improve its technology and is the future of implant dentistry.
Tony Aherne – Soft tissues around single tooth implants
With changing expectations for dental treatment, aesthetics have become a fundamental component in defining successful rehabilitation with dental implants. The durability of the gingival contours, as well as the colour of the adjoining tissues are critical for the long-term maintenance of successful treatment outcomes. 
In this lecture, all of the influencing factors will be discussed, including the stability of the interface, implant materials, bone and soft tissue augmentation as well as patient biology. 
Justin Leigh – Unlocking the secrets of case acceptance: boosting growth for your private practice
Communication skills aren't taught at university and many dentists are keen to understand how to improve their connection, relevance and value to their patients. Taking a consultative approach to patient conversations changes the patient's perspective and gives them confidence that you offer the most compelling treatment options.  
In this session, Justin will share a proven approach that advances the effectiveness of the patient consultation and wins the confidence of every patient. 
Josh Wren – Building unstoppable teams and an effortless patient experience
With a background of consultative roles, Josh joined Software of Excellence more than six years ago. Primarily working with existing customers, Josh was responsible for driving practice results through data analysis, improving efficiencies and driving profitability. For the last four and a half years, Josh has been responsible for leading a team of consultants to deliver further customer growth. Josh specialises in business planning, data analysis, team engagement and change management. 
Rory McEnhill – The Dental Trinity – how better digital communication between the dentist, technician and the patient will drive higher case acceptance and increased treatment plan values
Involving patients in the treatment planning process from the start allows better visualisation of the potential final results, removing patient concerns about committing to expensive treatment plans. 
Join Rory as he explores how by creating a digital forum incorporating the dentist, technician and the patient, the recipe for success can be highlighted early in the treatment process allowing predictable treatment results and happy patients.  
Bernadette Ffrench – 'Flourish or fold': why incorporating workplace wellbeing into dentistry is vital
In the context of dentistry, the concept of wellbeing plays a vital role in determining whether dental professionals and practices flourish or fold. Workplace wellbeing interventions and events are a great starting point to build wellbeing both individually and collectively. The availability and use of more dental specific resources have greatly enhanced delivery of these interventions and events.  
This presentation aims to educate and empower dental professionals to prioritise their own wellbeing and cultivate a practice of team wellbeing using workplace health and wellbeing interventions and events. 
It will provide valuable insights into the impact wellbeing has on dental professionals, while offering practical and actionable interventions and event suggestions to improve the overall health and wellbeing for the dental profession. 
Rachael Lilley – 'The one I'll always look for in a crowded place' – implant protocols
This presentation aims to provide clear protocols that can be replicated at each appointment to screen for implant problems provide effective implant debridement and key educational points for patients to take care of their implants effectively at home. 
Siobhan Kelleher – The intersection of oral health, lifestyle medicine and positive psychology
This presentation will delve into the intersection of oral health, lifestyle medicine and positive psychology. 
Siobhan will explore how lifestyle choices, such as diet, exercise, stress management and sleep, can impact oral health and overall wellbeing. Additionally, the role of positive psychology in promoting healthy lifestyle behaviours and maintaining good oral health will be discussed.  
Sally Simpson – Guided biofilm therapy: an overview
Our understanding of disease aetiology and the way in which we treat it has changed dramatically in recent years. 
Conclusive findings that it is, in fact, plaque biofilm and the hosts response to it that triggers the inflammatory response, resulting in the breakdown of periodontal support, have seen us move away from more invasive treatments to those that seek to preserve tooth tissue and address the issue of biofilm disruption and pocket decontamination foremost. 
As our understanding and consequently our approach evolves, so too should the equipment we use. 
Guided biofilm therapy is a protocol designed with minimal intervention and biofilm management at its epicentre. 
The use of airflow, perioflow and no pain piezon is revolutionising the treatment of every category of patient from dental phobia to periodontal disease to complex implant cases. A contemporary approach to treatment and patient management. 
Yvonne Howell – The role of the dental hygienist in the early detection of mouth cancer
Oral cancer is the seventh cause of cancer-related death in Europe. Therefore, early oral cancer screening is paramount in early detection. The role of a dental hygienist involves but not limited to performing a variety of examinations and this includes oral cancer screening. Dental hygienists are trained to recognise tissue changes and document oral pathologies at a very early stage.
They also provide advice and counselling in relation to diet and lifestyle habits such as smoking, alcohol cessation, oral hygiene and can play an important role in the patient's journey. Although our role is vital in prevention and early detection, we need to continue to educate our patient on how to do a self-examination. 
---
Register for your free place at the Irish Dentistry Show at dentistry.co.uk/shows/irish-dentistry-show. The Irish Dentistry Awards will also be taking place on the evening of Saturday 9 September 2023 at Clontarf Castle in Dublin. Visit www.irishdentistryawards.com for more.