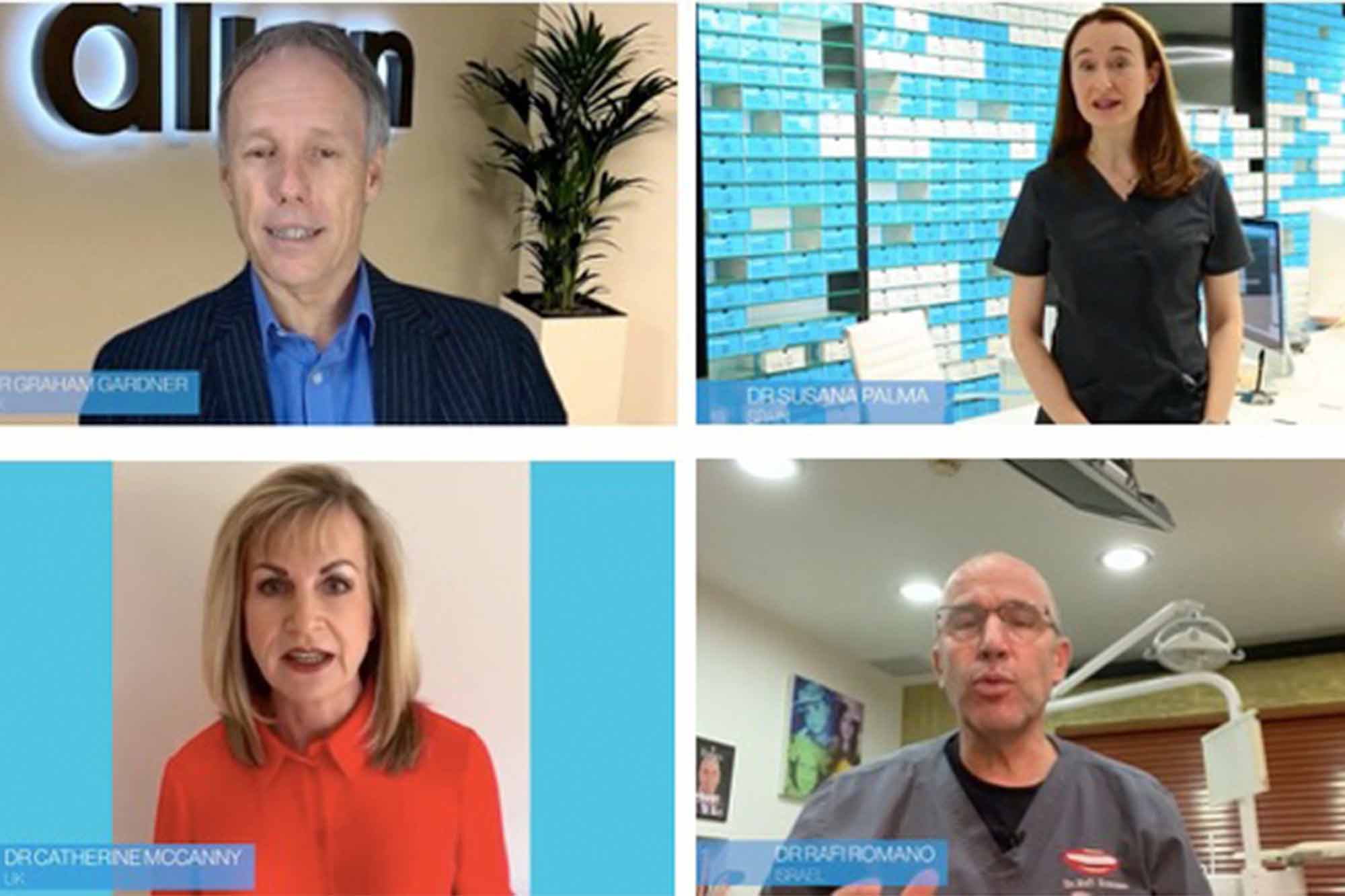 Irish Dentistry reports back from the first virtual Align UKI Orthodontic Summit.
With almost 200 attendees, Align Technology's first virtual orthodontic summit to enhance orthodontists' brilliance was heralded a success.
The Align UKI Orthodontic Summit for British and Irish orthodontists and orthodontic therapists took place virtually over 26 and 27 February. It was opened by Markus Sebastian, Align Technology's senior vice president and managing director (EMEA). Markus underlined the untapped opportunity of 150 million patients in the EMEA region who could benefit from straightened teeth.
He stressed the great strides the company has achieved with its most recent innovations. This includes advances to the aligner function with the introduction of G8. G8 optimises tooth movements and further improves predictability when treating crowding, crossbite, and deep bite cases. 
Also new is a software upgrade with the introduction Clincheck Pro 6.0 with 3D controls, and the new Itero Plus Element Series. This facilitates the complete digitalisation of orthodontic practices.
The two-day event was held to showcase these advances in the hands of experienced orthodontic specialists. This included Drs Graham Gardner (UK), Willy Dayan (Canada), Susana Palma (Spain), Rafi Romano (Israel), Catherine McCanny (UK), and Alastair Smith (UK).
Virtual monitoring
The presentation by Dr Graham Gardner showed delegates how he uses virtual monitoring to oversee his cases. Also, to describe how to troubleshoot issues early and manage any tracking problems which may arise with the objective of getting the teeth back on track without necessarily requiring additional aligners.
As he commented: 'The Clincheck software is analogous to the architect's plans. The plan must be achievable and practical. Like a builder reviews plans continuously to achieve the required building, the orthodontist should regularly review the patient's Clincheck and treatment plan to make sure the required outcome is on track.
'The combination of the Invisalign system and remote monitoring has allowed us to improve the efficiency of the orthodontic treatment while simultaneously improving treatment outcomes with the addition of remote monitoring tools. I am thankful that the majority of my practice is Invisalign-focused. This has allowed us to weather the COVID-19 storm far more effectively.'
Biomechanics
In his lecture, Dr Willy Dayan took delegates through his 20-year biomechanical journey with the Invisalign system. He shared some of the most complex and challenging cases. He also expanded on what he can achieve with meticulous planning that he cannot achieve with fixed braces.
Dr Willy Dayan advised delegates that: 'Orthodontists try complex cases, and sometimes they don't achieve the desired outcome, so they think it is not working and then they fall back to their old ways. If they learn to put their feet in the water, work out how to transition through challenges with aligners and undertake complex cases, this will result in faster and better treatments with less appointments and less effort on the part of the clinician, and with happier patients.
'The current pandemic has highlighted how much easier it has been treating patients, leveraging digital tools and clear aligners. Aligner patients need fewer appointments and less repairs, whilst brackets and wires require services that are much more challenging.'
Dr Palma
Dr Susana Palma echoed his comments. She has achieved international awards in recognition of her work in solving complex orthodontic cases using the Invisalign system. 
Her presentations focused on the diagnostic and biomechanical considerations in planning an array of different malocclusions. She explained how she harnessed the Invisalign system to treat complex adult and teen cases, and travelled through some of the perceived obstacles orthodontists raise about treating complex cases with the Invisalign system, to show them how to achieve exemplary results with clear aligners.
Dr Palma commented: 'I treat almost all my patients with the Invisalign system as no matter how complex cases are, it allows me to achieve the best results with the maximum comfort for my patients. I do not have any preference about the age of the patient, as I believe it is the best system to treat all my patients.'
Digital workflow
Dr Rafi Romano shared the steps he took as he worked through some of his most challenging cases. He addressed the interdisciplinary digital workflow required when treating complex ortho/restorative cases. He concluded: 'My advice to peers is to try treating with Invisalign clear aligners. Not because you might lag behind other local doctors who are embracing it, but because you need to arm yourself with the best tools now for where you want to be in a few years to come.'
Dr Alastair Smith also commented on the Align digital practice tools and showed delegates how to achieve a fully digital practice.
He stated that the COVID-19 pandemic had accelerated the adoption of digitalisation. Also, the Align tools are now more pertinent than ever at dismantling any perceived barriers that might have prevented patients from having orthodontic treatment.
He commented: 'Four years ago, the majority of our work was the treadmill of fixed braces. Now, we are 80% Invisalign-focused and 20% fixed. We are treating more patients with less clinical time and less clinical staff. It is a new paradigm for us and we are not planning to go back'.
Dr Smith talked about the opportunity to leverage the latest advances in technology and the willingness of consumers to embrace this technology. He stressed how it is important to make the team an integral part of the patient journey, and to rethink how to plan and treat patients, creating a smarter more streamlined environment, and most importantly to design the true outcome before starting to build it.
He concluded: 'Think of other industries and imagine an architect or engineer not designing an outcome before starting to conceive a car or build a bridge'. 
Teenage cases
Dr Catherine McCanny shared her personal growth experience using the Invisalign system for complex teen cases. She gave delegates tips on how to increase the number of teens and younger patients asking for treatment with the Invisalign system in preference to fixed appliances.
She admitted how sceptical she was three years ago. Dr McCanny changed her mindset and now follows an Invisalign teen-focused strategy. 'If I can do it,' she said, 'you can do it too.'
On the second day, Dr McCanny emphasised the importance of the role of a treatment coordinator in the patient journey and recommended her peers try to see the time during the pandemic as an opportunity to reset the button and embrace digital technology, even more so with the numerous new digital tools provided by Align Technology.
Back to the future
Align's marketing director, Dan Parsons, provided delegates with an overview of 24 years of Align innovation. He expanded on the most recent software innovations including Clincheck Pro 6.0 and In-Face Visualisation. Along with aligner advances including new G8 features.
He described how the company leverages data from more than nine million patients across the globe. In turn, this helps dentists to enhance their skills and the patient experience.
Senior technology fellow for Align Technology John Morton detailed the engineering fundamentals behind the Invisalign system. There was a focus on the latest G8 innovation with Smarttrack and Smartforce aligner activation. This integrates optimal forces to treat crowding, cross bite and deep bite cases more effectively and predictably.
As he stated: 'It is better to design everything upfront via digital system to make sure that you minimise the probability that it is going to go off track. We are able to control the force system with high precision and this is where the future comes to be. The application of the shapes of the aligners and attachments to temporarily alter the shape of the teeth will allow us to get better control over treatment. It will treat much more difficult cases as time progresses.'
ADAPT
Senior business optimisation consultants Vikki Young and Rachael Hart from Align Technology presented the new Align Digital and Practice Transformation (ADAPT) consultancy service now available to orthodontists.
The service is designed to help optimise their practice's operational workflow and processes. This enhances patients' experiences and increases customer and staff satisfaction, leading to higher growth and greater efficiencies. So far, Align has carried out 100 ADAPT projects across EMEA in 20 countries. Results show an increase of 109% of approved Invisalign treatment plans and an average 31% growth in practice revenue.
Director of consumer marketing for Align Technology, Brooke Radich, followed. Brooke shared insights into the dramatically changing consumer landscape. She explained that the company accelerated the development of new digital products. These products keep dental professionals connected with patients and treatments on track during a most challenging year.
Brooke also challenged the audience to do things differently. To be present, accessible and consistent, in order to take advantage of the unprecedented consumer demand.
Closing comments
Align's general manager UKI (specialist orthodontists), Abigail Lander, closed the event. She stated that 2021 is a year of opportunities. That the orthodontic community is making huge strides and starting to embrace all things digital. It is implementing new practice development programmes, and participating in the wealth of virtual education and forums available. Especially over the past 12 months.
She concluded that Align Technology will make continuous investment in marketing to drive consumer demand to practices. This includes a focus on parents and teens. 
---
This article first appeared in Irish Dentistry magazine. You can read the latest issue here.