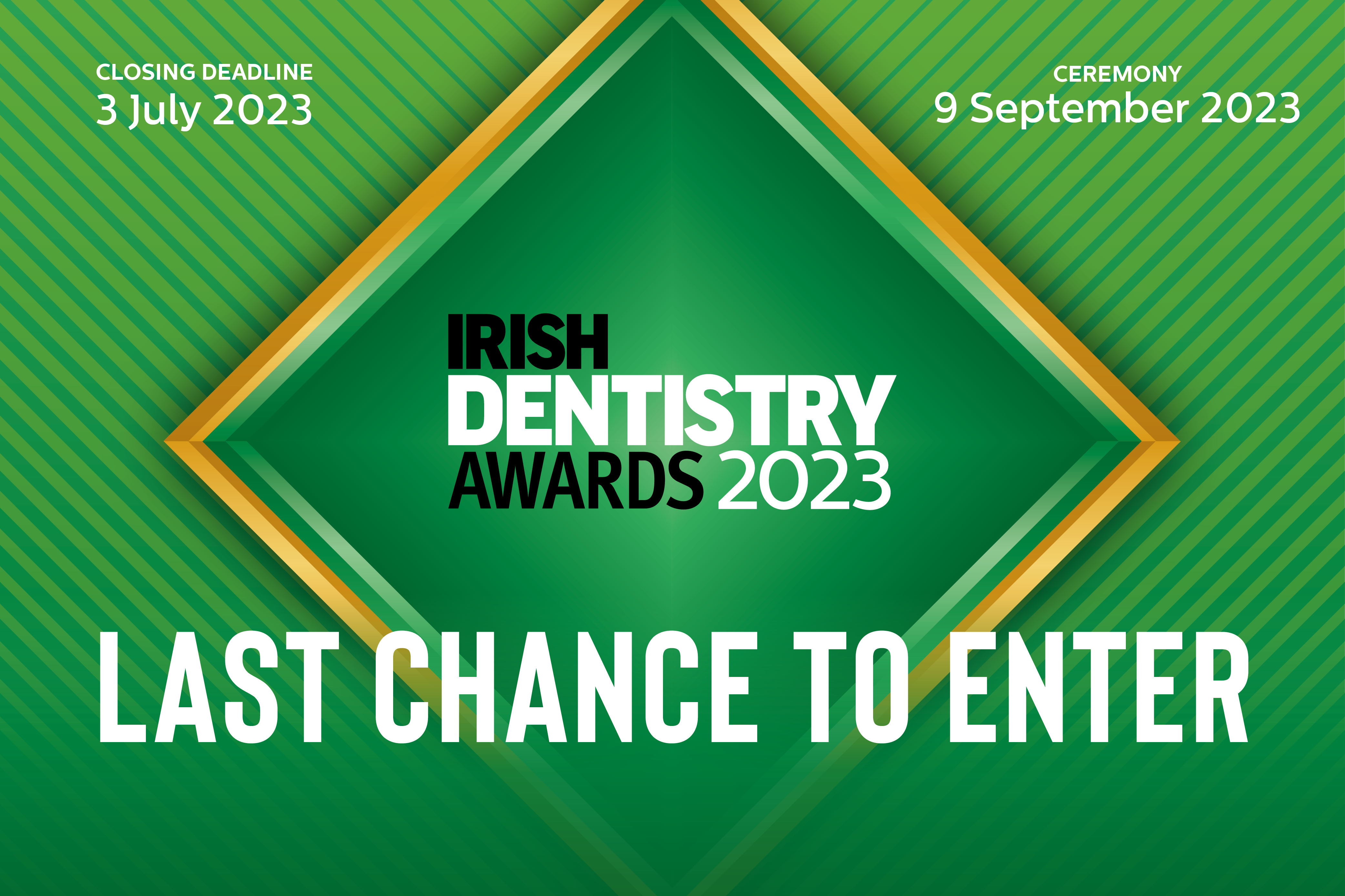 The Irish Dentistry Awards are returning to Dublin for 2023 – get your entry in now to make sure it's counted!
The Irish Dentistry Awards 2023 will once again recognise and reward outstanding achievement throughout Ireland's dental community.
The ceremony will take place on 9 September 2023 at beautiful Clontarf Castle, Dublin. We hope many of you will join us for a night of glamour and celebration.
But the deadline for entries is fast approaching. Get your entry in by Monday 3 July to be in with a chance of winning a prestigious Irish Dentistry Award.
Read on to find out more about the benefits of entering for an award, the categories on offer and how to submit your own entry. For full details and to enter, go to dentistry.co.uk/awards/irish-dentistry-awards/.
Why should I enter the Irish Dentistry Awards?
1. Attract new patients
Winning an Irish Dentistry Award verifies to prospective patients that you or your practice provide exceptional care. You can advertise the award in your practice, or post announcements in local media or online. Even being shortlisted for an award is a great achievement, and provides something for you to shout about on your social media channels.
2. Build trust with current patients
Patients like to know that they are a part of a thriving community. Entering an award is a great way to build this community, as patients will enjoy rooting for you and feel proud if you win. They will also feel validated in their choice of practice, which encourages loyalty and trust.
3. Boost team morale
Rewarding the hard work of your team is an essential part of job satisfaction, and entering for an award is a great way to achieve this. Attending the awards provides a fun and social team building evening. Nothing beats the feeling of camaraderie when a team hears their colleague or practice's name announced as a winner. Even staff who don't attend the awards in person will feel recognised as part of a successful team.
Now you've heard the benefits of entering, how can you get started? The first step is to choose your category or categories.
The categories
There are fourteen categories up for grabs for the Irish Dentistry Awards 2023. They are:
New Practice
Most Attractive Practice
Most Improved Practice
Best Child-Friendly Practice
Best Community/Charity Project
Best Team
Most Invaluable Team Member
Best Employer
Best Patient Care
Best Referral Practice
Best High Technology Practice
Best Treatment of Nervous Patients
Irish Dentistry's Rising Star Award
Practice of the Year.
For more information about the categories and their criteria, see the entry guide here.
How to enter
Once you've picked your categories, it's time to start compiling your entry. Write up to 750 words, ensuring that you have addressed all of the criteria specified in the entry guide. Even if you are less strong in some areas, it's important to cover all of the criteria.
Go to dentistry.co.uk/awards/irish-dentistry-awards and click on 'Register Now'. Add your details and select your categories.
To enter the awards for free, all you have to do is make sure you register before the end of June.
After you register you will receive an email confirming that you are able to submit your entry.
Submitting an entry is simple!
All you need to do is click 'Enter Now' and complete the online form. Then upload your entry. In an effort to simplify the process, this is the only way to submit your entry for the Irish Dentistry Awards 2023.
The entry deadline is Monday 3 July, so act quickly to ensure your entry is counted.
Need help with your entry? Contact us by calling our team on +44 (0)1923 851779 or email awards@fmc.co.uk.
---
For more information and to register, visit dentistry.co.uk/awards/irish-dentistry-awards.