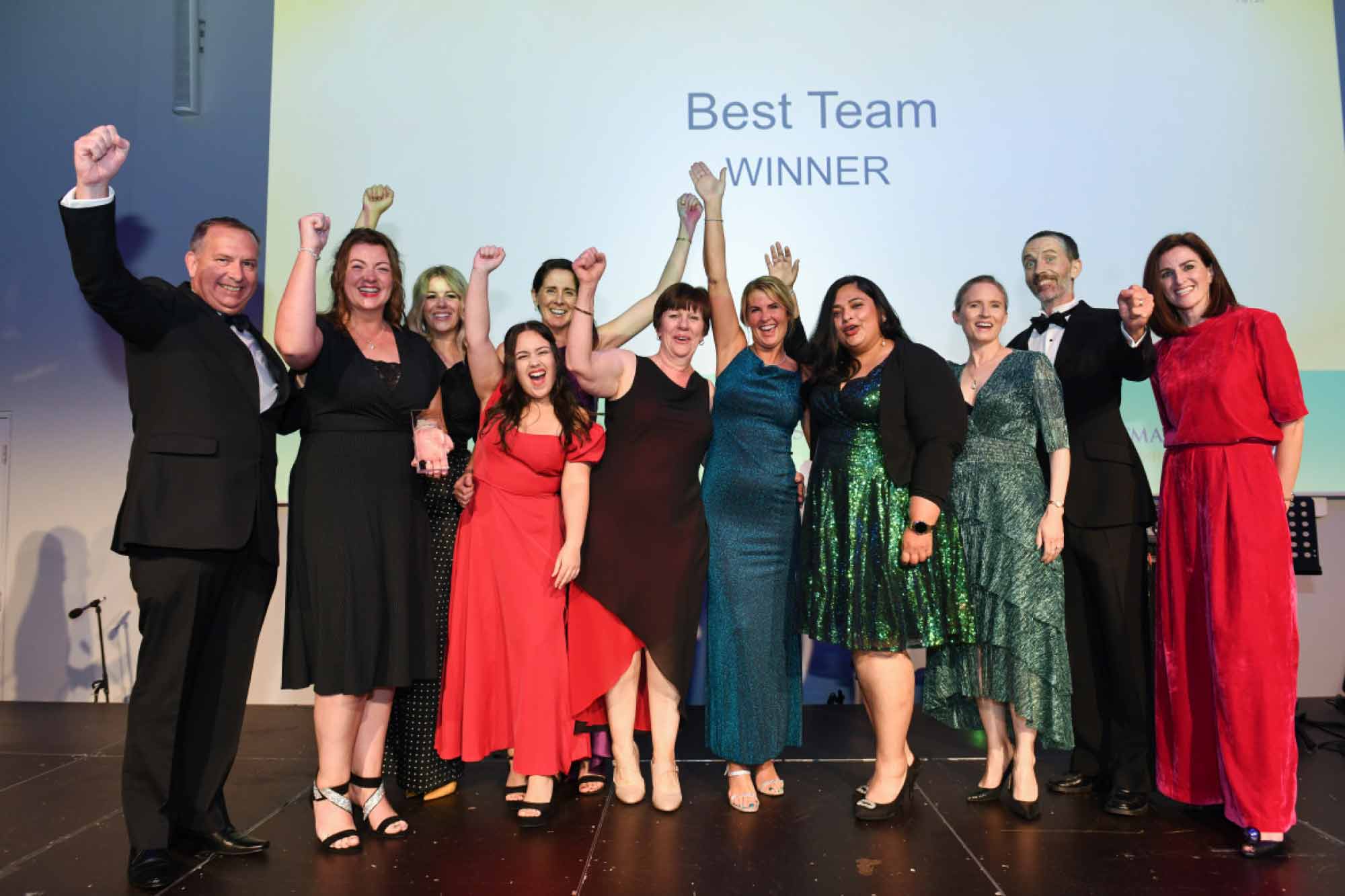 Regina Farnham explains what it means to Dental Care Ireland Tuam to be named Best Team at the 2022 Irish Dentistry Awards.
How does it feel to have won an Irish Dentistry Award?
It feels amazing to have won an Irish Dentistry Award, especially for Best Team. The entire team here at Dental Care Ireland Tuam is so deserving of this award. Everyone is incredibly hard-working and always go the extra mile to ensure our patients are well looked after. 
Tuam itself has a fantastic community, and reflecting that in our practice is extremely important to us.
How did it feel when your name was announced?
Our reaction to winning the award was actually recorded by our marketing manager – it's very funny to look back on! We all jump up and cheer the second our practice is announced as the winner! 
We were all incredibly happy to have won the award for Best Team and certainly felt a sense of pride within our team. It's incredibly inspiring to see how much this meant to our team members. They obviously care a lot about it, which shows how committed they are to their roles!
What do you think have been the main benefits of entering the awards?
Winning Best Team has certainly boosted team morale! I know how brilliant the team is, but to have it officially recognised is fantastic. It just goes to show that the hard work the team puts in is recognised and appreciated! 
It's also great to have the recognition within Dental Care Ireland as a group. The company consists of 33 practices nationwide, and to win Best Team among so many brilliant teams is certainly an honour. Tuam is a small, tight knit community, so it's lovely to be able to proudly display our award within our community.
Have you entered before?
Dental Care Ireland has not entered this category before, which makes it especially special that we won! The company has entered and won the Most Improved Practice for our Navan practice, and Most Attractive Practice for our Ashbourne practice.
What do you think the Irish Dentistry Awards are doing for standards within the profession?
It's great to acknowledge great dental practices across Ireland so that these great standards are upheld for patients. Shining the spotlight on great teams, practices and the like allows us to be inspired by our peers and keeps us improving! 
It also creates a sense of community. Meeting other practices at the Irish Dentistry Awards was lovely!
What advice would you give people who are thinking of entering the awards?
Absolutely go for it. The sense of pride within our team has grown massively since we received this acknowledgement. And, even if we hadn't won, we still had a great night together at the awards! It's a win-win.
What's your favourite product of the last 12 months and why?
Invisalign has certainly been a point of focus at Dental Care Ireland Tuam throughout the last year. Last year, we did an Invisalign Open Day at our practice. This gave our patients and new patients the opportunity to come in, discuss Invisalign with our dentists during allotted appointments, and have scans done with an Itero scanner. This allowed them to see what their new smile would look like post-Invisalign treatment! Invisalign has proven a very popular treatment here in Tuam.
Will you be entering the awards again?
Absolutely! We are incredibly proud of each and every Dental Care Ireland team across the country. Entering the Irish Dentistry Awards is an opportunity to recognise our team efforts and their incredible care for patients. And as I said, it's always lovely to attend the awards and meet the other practices! 
---
The Irish Dentistry Awards 2023 take place on 9 September at Clontarf Castle, Dublin. For more details, visit www.irishdentistryawards.com.