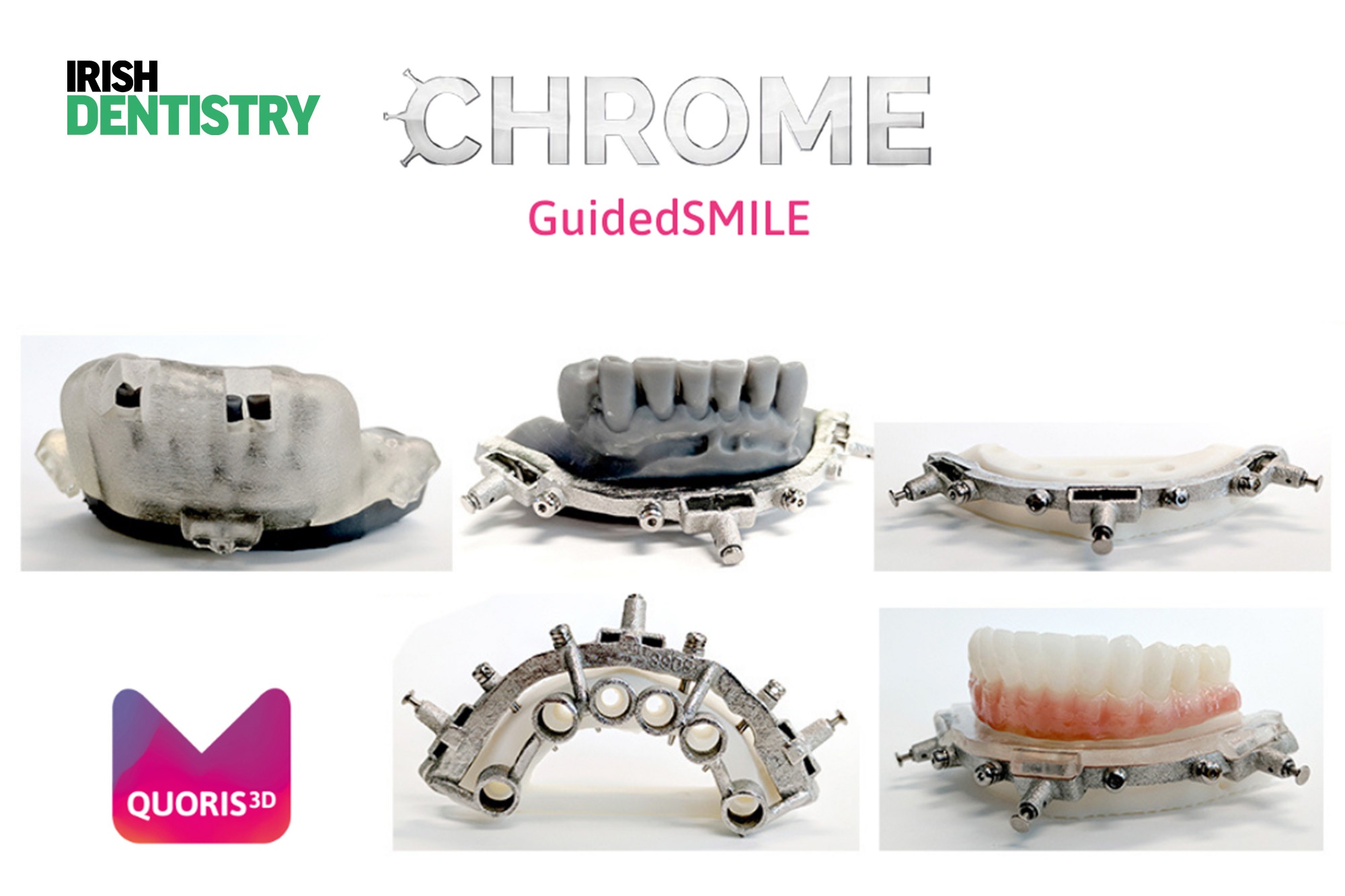 Julian English visited the LS Browne Centre in Enniskillen, to find out all about Chrome Guidedsmile surgery.
I recently visited the renowned LS Browne Centre, to see this famous set-up for myself and review the offering for dentists. 
It is located in County Fermanagh, known for its natural beauty, with plenty of loughs and picturesque villages around Enniskillen. 
The LS Browne Centre itself is housed in a state-of-the-art building in the heart of the beautiful Fermanagh lake lands. 
The centre hosts 'digital dental training', which aims to provide dental professionals with access to up-to-date and relevant educational courses and events. Visitors get the opportunity to access and try for themselves some of the latest advancements in digital dentistry technology. 
The courses on offer encompass different aspects of dentistry, including guided surgery, 3D printing, CBCT training, and much more. 
The centre
Probably the biggest expense for the new owners was the AV system, which had to be of the highest standard to ensure the experience was as compelling as possible for course attendees. 
The man behind the LS Browne Centre is James Hamill. He said: 'The LS Browne Centre was built to hospital standard for AV and security. It was named after a good friend who had a genuine love of education and died while it was being purchased.
'Outside was converted for use by the dental team at the company.'
Indeed, there is a really nice atmosphere of friendly and professional surroundings, ideal for learning.
However, what really strikes you as a visitor is the size of the place. After enjoying the open plan reception, you turn a corner and the building goes a long way back with surgeries, offices, the Quoris 3D business, a board room, lab, and an implant distribution centre and warehouse.
It is so much bigger than one normally expects of a training centre. 
They can cater for an impressive 40 students seated in the lecture theatre and 22 hands-on visitors. 
Lecture hall
The lecture room includes:
120-inch 4K HD projection screen

Suspended full HD screens and speakers

Live surgery feed (integrated real-time feed from one of three fully prepared surgeries)

Full HD camera (option to capture course content for live streaming/future uploading)

Configurable room layout (modular/U/L formats).
Surgery facilities
The three fully prepared dental surgeries within the centre are equipped with the latest in dental technology, from leading brands including Acteon, Anthos, Heka and Futudent.
Each surgery is serviced by a similarly well-equipped, dedicated decontamination room. Crucially, the theme of interactive dental education is continued in each of the clinical spaces, equipped to benefit from the following technologies: 
Two wall-mounted full HD screens (which can be utilised for displaying patient data, workflows etc via a laptop or other similar device)

Futudent 4K Procam (which can be mounted to a chair operating light or loupes for live ultra-HD capture/feed of surgical procedures to the lecture room. Capturing still photographs is seamless, too)

Two-way HD communication with HD microphone and surgery speaker (enabling real-time engagement with lecture room audience).
Chrome Guidedsmile
The principal surgical courses offered at the LS Browne Centre focus on Chrome Guidedsmile, a guided treatment technique for full arch implants. 
You are not alone if you find the concept daunting at first sight, but with the right digital workflow, the highest aesthetic and functional outcomes can be achieved – and quickly too.
As well as with fewer of the multi-disciplinary headaches of conventional methods. The process is intuitive, less invasive, predictable and saves time. 
We know this because Chrome was specifically developed for dentists who desire a pre-planned, predictable guided 'all-on-x' style surgery.
This amazing service delivers anchored bite verification, anchored bone reduction, anchored site drilling, accurate anchored provisionalisation, and a method of transferring all surgical and restorative information for the final restorative conversion phase. Most cases simply require a CT scan and traditional records. 
To facilitate all this, via the Quoris 3D business, founder and award-winning implant dentist, James Hamill, created a pathway for dentists that offers all the expertise they need to move forward.
Still led by practising implant dentist, James, the team now has a decade of 3D experience and more than 17 years of clinical practice under their belts.
Adding a personal touch, James researches the products from a clinical perspective before he is prepared to add them to the product portfolio. 
All of that said, it is clear that this ethos is not really about products – although the finished articles are incredible – but rather about helping dental teams to save time and add value.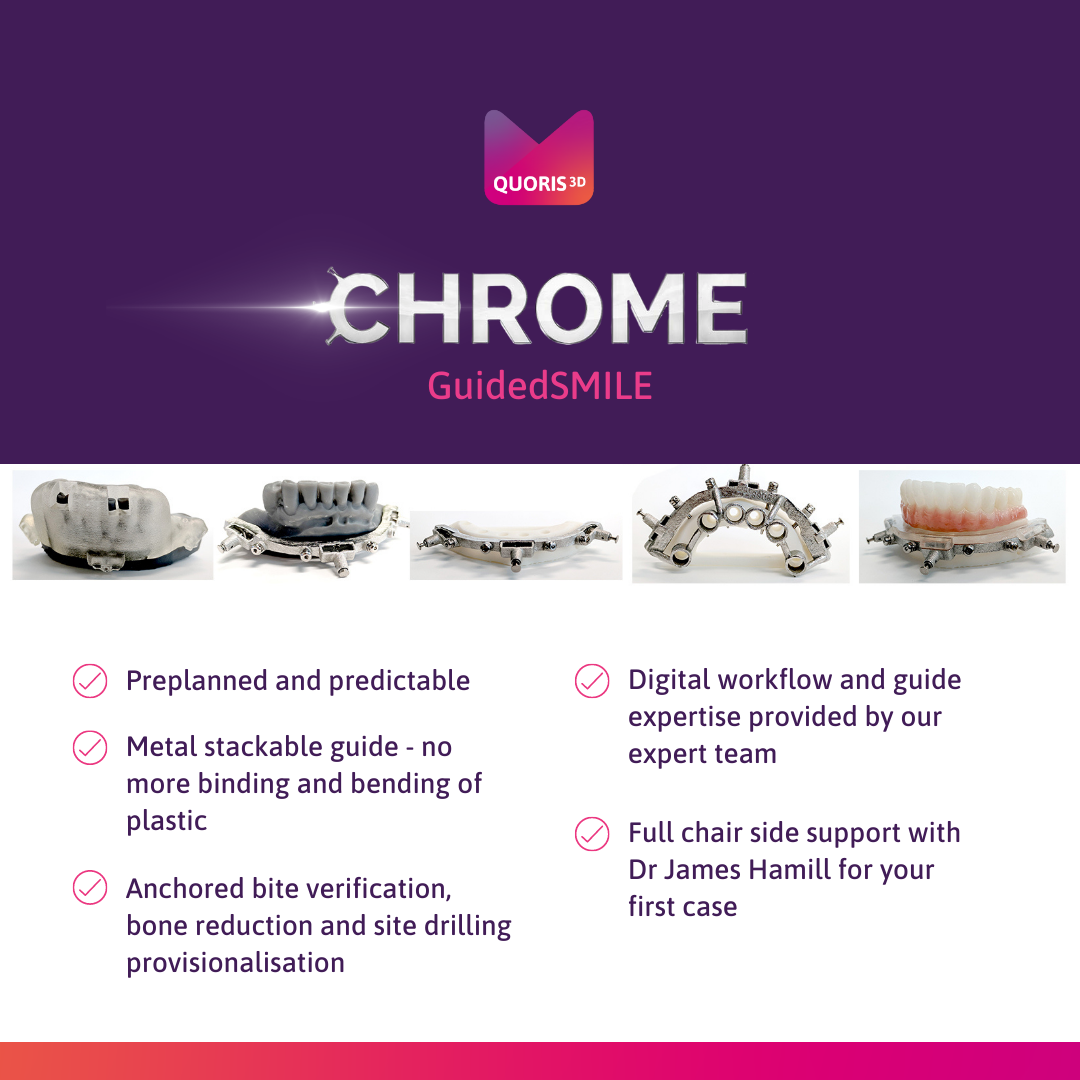 Making full arch a time-saving reality
Despite great inroads in technology and techniques over the years, it nonetheless takes a dentist a long time to complete full-arch surgery in a conventional manner. 
On the other hand, if you treat a patient from start to finish with Chrome, you will save around seven hours of chair time. 
If you consider that from a financial perspective, it is quite significant. Imagine, you could spend the new-found time with your family, on other exciting work or leisure projects. Or you could increase your business traction elsewhere or perform greater numbers of full-arch cases. 
Chrome is the ultimate, predictable guided surgical treatment for full arch stability. Its advantages include:
Pre-planned bone reduction/osteotomy guidance/abutment placement/prosthetics

No binding and bending of plastic – the Chrome Fixation Base is created using selective laser melting (SLM) technology

No more blind drilling – Chrome allows visualisation of the drill as implants enter the bone

Lengthy conversions are a thing of the past – Guidedsmile conversion takes just minutes to perform

Experience and support – work with a team that has completed 3,000+ cases

Online ordering system – easy-to-use website makes ordering extremely simple.
In overview, the Chrome surgery package planning service allows the new user to experience what it is like to take a Chrome Guidedsmile case through to the planning stage with minimal financial commitment. 
And it is not just about making things easier for clinicians. Patients can be shown the aesthetic potential of their new smile, provided through the Smilesim smile design software.
This does not put added pressure on the dental team, as you do not need an expensive camera or a professional photography studio to achieve good results. You can simply take the patient's photo while they are in the chair with a point and shoot camera that you are happy using, although camera phones are not recommended, nor are intraoral cameras or web cameras. 
A win-win process, presenting patients with the benefits of this kind of surgery becomes easier. The patient can see the final result before the process starts, increasing treatment uptake. 
Support and mentoring
In addition, Quoris 3D will work closely with clinicians to gather the necessary patient records, scans, and impressions. Quoris 3D's procedure is capable of processing both digital and traditional impression methods. 
Once the initial records are complete and uploaded on to the Quoris website, the dentist is invited to an online planning meeting to finalise all aspects of the case. This includes: 
Planned bone reduction

Detailed implant placement and orientation

Abutment placement and orientation

Prosthetic delivery

Approval for manufacture of guides and prosthetics.
The real bonus here is that the clinician remains in control of the case. During the planning meeting, they get to adjust the plan as they see fit and sign it off to their specifications. The planner simply guides them in relation to positioning and what that means for the final prosthetic outcome. The dentist remains in control without having to spend ages at the planning stage. 
Upon completion of the online planning call, the dentist receives a detailed email that confirms the overall plan. It lists what implants, abutments and components need ordering from their local implant representative to complete the case. 
The case will go to manufacture and, within 14 days of the planning meeting, the dentist will receive their case-specific presentation box. This contains all the required Chrome components as agreed, including detailed written guides of both the surgical and restorative treatment phases. 
Chairside support is also available; James Hamill and his team help ensure that both the dental team and their patients benefit fully from what Chrome has to offer. 
Try Chrome for your next private denture patient
Tried and tested, this technology is already at the vanguard of full-arch workflow in America. It offers outcomes of an extremely high standard, is incredibly predictable and very intuitive to use. In fact, data suggests that 95% of all clinicians who try it go on to use it a second, third and fourth time. 
If you would like to try Chrome for yourself – already one of the world's leading full-arch guided solutions – for a limited period, Quoris 3D and the LS Browne Centre are inviting dentists to take up their offer of a free case evaluation or to attend a course coming to a venue near you soon. 

The Chrome Roadshow
The Chrome Roadshow took this world-leading, fully guided arch system throughout the UK for the first time in January this year, giving dentists a chance to see for themselves how completely systemising their full implant arch work, from record taking to final restorations, is an unprecedented winner. 
Each roadshow event provided an overview of Chrome Guidedsmile, the tripod of data, surgical and restorative steps, the business of Chrome Guidedsmile, lunch, and a hands-on session.
Tying in with James' desire to do good whether it is for fellow dentists and their teams, dental patients or beyond, the incredible low-cost of just £50 was donated to Women's Aid, a charity that Quoris 3D supports in Enniskillen.
A company built on CSR

The LS Browne building was originally constructed in 2015 to be a children's hospice. The local community had raised 1.4m EUR to build it, but it never opened due to the lack of availability of qualified staff, which was a very sad state of affairs.

In the end, it was put up for sale in 2019, and James Hamill bought it over a 12-month period in 2020 to convert into the LS Browne Centre. 

It was only through the help of the First Minister for Ireland, Arlene Foster, that the purchase got over the line. She recognised that a local was trying to buy it, that it went some way to making an unfortunate situation better, and so she oiled the wheels of progress.

Inside the building, the LS Browne team has retained some of the children's artwork. This includes a beautiful papier mâché elephant, which coincidentally mirrors the centre's values and logo. The elephant is an acknowledgement of the children who used the hospice.

The LS Browne Centre CSR plan further comprises other elements and creative ways to play its part as a responsible corporate, encompassing environmental sustainability and community engagement. 
---
To learn about courses, visit www.lsbrownecentre.com/course-calendar or visit www.quoris3d.com for more information on Chrome Guidedsmile.