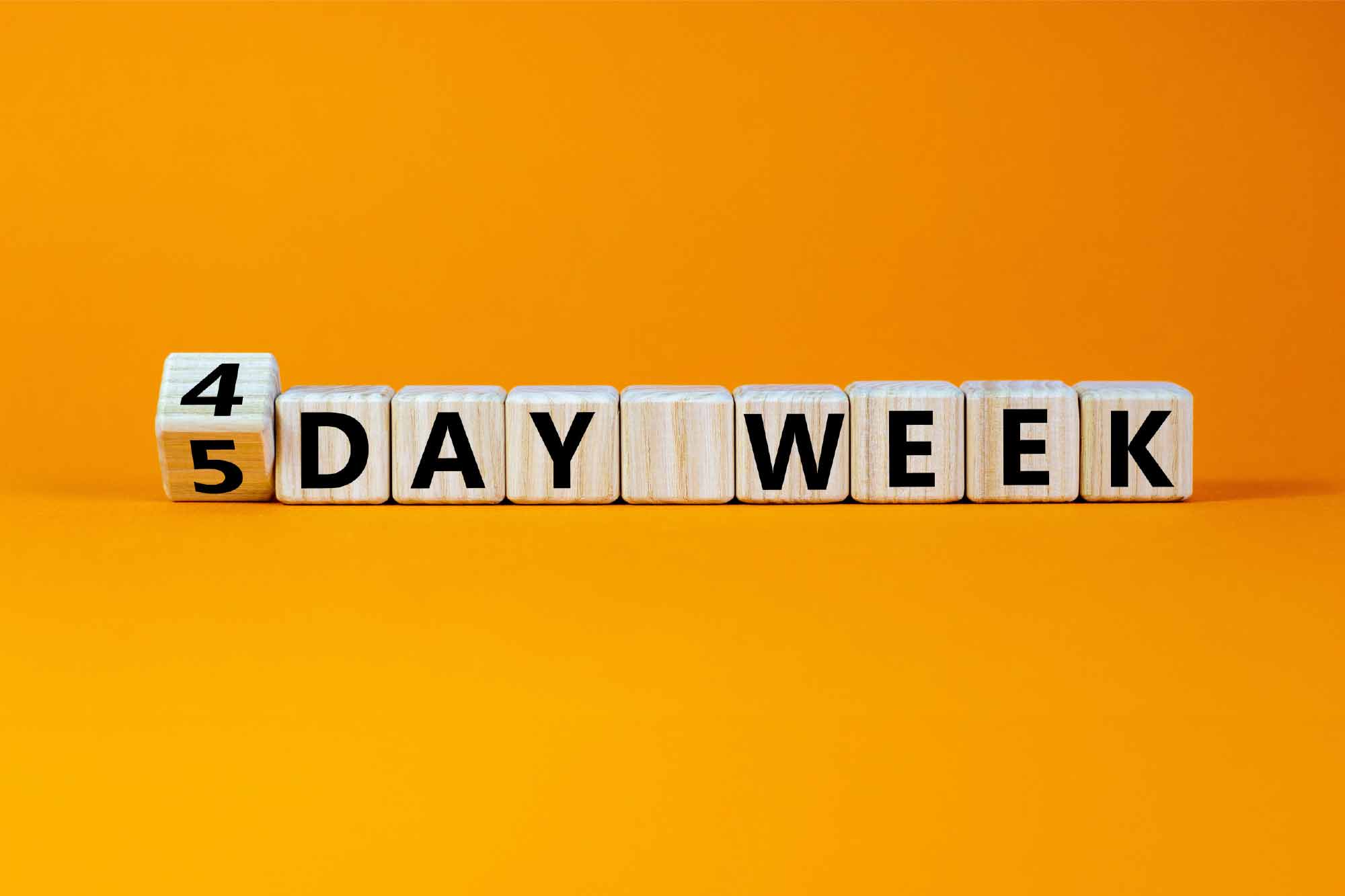 Jackie Ffrench discusses the implementation of the four-day work week at PD Ceramics Ltd and the benefits it can bring to the profession.
As a dental laboratory servicing the dental sector here in Ireland over the past 30 years, it has been crucial to embrace change always and figure out a way to expand and support our customers and team members along the way. 
Our supply chain is also a very integral part of our business, so working with our key partner, Zirkonzahn, and supporting local suppliers requires careful consideration also in our service provision. This has been especially important since the Celtic Tiger crash in 2008 and during the recession that ensued, but in more recent times, post Brexit and during COVID-19, which left us all dealing with lot of new changes to our work life. 
Many businesses had no option but to adapt to life offsite during the pandemic, but for a manufacturing business this was not so easy and finding a way to support the team, the business and customers left us looking at the four-day week concept that was being successfully adopted and adapted to fit in many businesses in Ireland as well as other countries. I'm delighted to say, it's been an absolute success story. 
Open mindset
There is a famous saying: 'Life must be lived forwards, but only understood backwards'. 
As a business leader, I sat down with Paul Dowling, dental technician and owner of PD Ceramics Ltd, in September 2021 prior to returning to work myself post-pandemic and asked what we could do to breathe new life and energy into the business. 
As one of the first dental technicians to bring digital technology to the laboratory sector in Ireland in the 90s, Paul was open to possibilities that offered the business a chance to move away from an old, cumbersome method of producing restorations to a new and exciting era in technology advancements at the time. 
He was curious and ready to adapt to further changes as the business returned to a new norm over time post-COVID-19. 
Manufacturer approach
We knew from talking to other sectors that the four-day work week doesn't work for everyone, so initially we also looked at hybrid or flexible working option. However, we found that this was way too difficult for a service manufacturing industry like us. 
When it came to adopting and adapting to a four-day week, we had several factors to consider. We needed to look at the productivity impact of losing a day onsite effectively, engagement from staff and customers, alongside morale within the team to work in a new way, but most importantly, we really wanted to focus on the wellbeing and retention of our team and reinvent the business along the way. 
As an SME business in Ireland, being small meant that we also have a smaller workforce to work with for scheduling; and time management of the manufacturing needed careful planning. We explored several options and looked at the impact of trying to split the manufacturing team into a Monday to Thursday group and a Tuesday to Friday group for production and it was good in many ways. 
After six months, we found that reverting to a Monday to Thursday team approach worked best for our main technicians.
The traditional and 3D printing model rooms work Monday to Friday alongside our operations team, and this affords us the chance to work in a very specific way overall as a team. 
Fridays are critical for our operational and model room team to prepare cases and projects for the next week ahead, but they also finish earlier too, so all the team gets an adapted work week. Friday afternoons were often very quiet, and the team was ready to stop for the weekend also, so we don't feel we lost anything by working until 2.30pm, because we are more organised now. 
However, we know that our customers still need support on a five-day week basis, because dental practices operate differently in general to laboratories. 
Immediate benefits
For the team, the benefits of this new working week were instantaneous! 
The change in mindset for both employer and employees was positive; it worked for us all. Our productivity went through the roof, and we started to also see time freed up for new projects and more training and development. 
The technician was getting a three-day weekend and coming back refreshed and ready to start the week with a new energy. Time for personal development, family life and a reduction in travel/commuting time in the work week were key points mentioned by the team. Also, some of our technicians come from abroad and we were able to support them getting home for a long weekend too, which was lovely to see. 
Maintenance tasks that would ordinarily only be scheduled during a quiet period or during summer or winter shutdown could be managed sooner. A week before we moved to the four-day schedule, in May 2022, we completed renovations and new equipment installations onsite. That also supported how our new working week would work. 
Our workflow efficiencies improved, and we had time to attend to developing new investments for the business also. The necessity for overtime disappeared and the team only rarely needs to do the odd piece of overtime, but in general it is not something we encourage. 
We were also focusing on making the four-day week work to prevent burnout, reduce stress and promote them to be more focused and happier in their development in the business. The need for time off also for different appointments reduced within the team as there was now time off during the week for this. 
We are much more consistent, and predictability is increasing because of these overall changes.
Core necessity
The four-day week is important when it comes to the innovation that happens when you have the whole team together on a day-to-day basis. 
We found that the early morning huddles before the phone started ringing was a game changer for the technicians. That couple of hours at the start of the day is when the technicians can all talk about different challenges, issues or just support each other on cases for the week ahead. Then, as soon as the administration team comes in, we have the time to direct and sort out issues they needed answered by the technicians. 
Those Mondays to Thursdays are a busy four days, especially for cases arriving and being dispatched. The mornings are also busy with cases arriving traditionally in the post or by courier and the administration team works very closely with the technicians to ensure communication for solutions is correct. If information is missing that needs to be handled as quick as possible. 
Since the pandemic, we have also been facing a newer change in the business, our customers adoption of intraoral scanning, and this has seen us needing to adapt to how we manage this in the business – both technically and operationally. 
The planning and capturing of cases prior to dispatch for marketing and social media engagement is usually done at the packing stage of dispatch in the evening. We have been able to condense this to certain days of the four-day week to ensure that we have a good system going. It is giving us time to create new processes and efficiencies on how we manage the business overall.
Customers' view
What do our customers think about it? Honestly, we have not seen or heard any negative feedback on it. In fact, because we have become so much more efficient and improved our service offering, the phones don't ring as often anymore. 
The condensed work week on production leaves Friday, in particular, as a great day to focus on the operational side of the business as there are no machines running and fewer people onsite. We have systems in place to ensure that all queries are managed via our website also. 
Our clients hopefully will trial the four-day work week in the future also. This would allow all of the lab team to move to a four-day week then. It is a cultural shift for many of us in the sector, but one worth investigating. Not everyone can do it, but if you are a dentist with a large enough team to offer a shorter working week to, then it might be something for you. 
Staff retention and growth
Time is a precious commodity, and we have seen that money is not always the most important factor for someone coming to interview with us. Not everyone wants to work a five-day week anymore.
In addition, we have two amazing women who work part-time. It affords them the opportunity to participate in the workforce and maybe even to think about working four days in the future if they want, as it is meeting the need not to be in work all week.
Cost of living crisis
The cost of living crisis was on our radar post pandemic, and with the war in Ukraine we were challenged with lots of price increases, supply issues and we saw this inside the business also. The commute to work was the other consideration for a reduced working week, but equally for the environmental reduction benefits by reducing our carbon footprint with travel. 
Running our machines for four instead of five days was the other factor. This allows us to not only be more efficient, but also reduce the costs on the business.
Right for you
Adopting a four-day working week is a huge leap of faith for everyone involved, but it is also important that as an employee your values align with the needs of the business for you to get the most from working in this type of model. 
Our business predominantly requires an onsite team presence and that will not be a good fit for someone looking for a flexible role, or the opportunity to work remotely. The days are extremely busy, and we now require much more collaboration as a team and with our customers on a day-to-day basis. 
As a business leader, I am often on the road at various exhibitions, conferences, or meeting clients and suppliers, but when I am onsite, I immediately feel the energy and creativity happening and I do miss it when I not there. 
I also see a great deal of ease and movement within the team daily since we adopted the four-day week. The boss has finally even started to be able to move with ease during the week between the team, supporting them where needed and getting more time off the bench to deal with other business requirements. 
Wellbeing and morale have improved 10-fold for our team. You can actually see it. I also say, if you give yourself 10 days to do something, it will take 10 days. When we decided to condense our work week to four days for the technicians, we saw very quickly how to manage it much better. This model is giving our technicians a new lease of life also, as many worked more than five days per week previously. 
As a profession, dental technicians are difficult to find now and we need to protect them and provide the best working environment, where they have time to mind themselves also. 
Can you see any benefits for your dental laboratory or dental practice and team reading this? I hope so because we know that it is worth a shot! 
---
Explore more Irish Dentistry features: