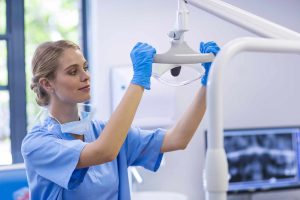 A new fully-funded programme for dental nurses has launched in Northern Ireland in a bid to secure the future of the profession.
Portman Dental Care has joined forces with South West College in Dungannon to kick off a new apprenticeship scheme for dental nurses.
Each candidate will experience one of Portman's 11 practices scattered throughout Northern Ireland. They will work alongside experienced team members within high-tech clinical environments.
Fully funded
Practice locations will include:
Belfast
Ballymena
Ballymoney
Derry/Londonderry
Hollywood
Newtownards.
Candidates are to receive pay during their training. Portman will also fund all of the training provided and offer flexible benefits.
'Pioneering and passionate'
Andy Relf is head of operations for Ireland and Scotland at Portman Dental Care. He said: 'This is an extremely exciting time at Portman and especially for our practices here in Northern Ireland.
'We have been working closely alongside South West college to offer this apprenticeship scheme to invest in the future of our company, our practices, and also the dental industry at a grass roots level.
'One of the main driving forces at Portman is the culture that underpins all of our activity. This is being patient-focussed, people centred, pioneering, and passionate.
'Embedding this throughout the company is something that we are very proud of. It helps us to continue delivering the very best patient care possible. By sponsoring the candidates through the process, we believe we can really nurture their growth and help shape their futures.
'This is the very first exciting step. We're thrilled to be launching this with our partners at South West college in time for the national apprenticeship week.'