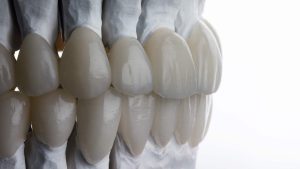 Demand for cosmetic dentistry in Ireland has boomed since the start of the pandemic. 
This is according to Caroline Robins, chair of the GP committee of the Irish Dental Association.
Reported by breakingnews.ie, Ms Robins said demand had gone 'off the Richter scale', adding that Zoom is a key reason why interest may have spiked.
She said she has noticed an increase in the number of patients who have opted for straightening and bonding.
Dubbed the 'Zoom boom', many dentists have reported increased patient interest and put it down to the fact that more people are using video calls.
Additionally, many have more disposable cash as a result of delayed or cancelled holidays.
Delayed dental visits
This comes as more than half of adults in Ireland have avoided dental check-ups over the last 12 months.
New research carried out for Seapoint Clinic in Dublin by Opinions Market Research, shows that 51% of Irish adults have avoided dental appointments following the onset of the pandemic.
According to Extra.ie, the research also found that women were more likely to have delayed a dental visit (54%).
Similar results were found among those aged 25 to 34, with a rate of 56%.